In our Temple, we sing the following prayers and stotras during offering Arati to God.
Jaya Jagadeesha Hare (in Hindi)
Twameva mata cha pita twameva (prayer in Sanskrit)
Kayena Vacha Manasendriyarva (Atmasamarpana Mantra in Sanskrit)
Lakhsmi Stotra (Glories of Lakshmi in Sanskrit)
Devi Stuti (Prayer to Devi in Sanskrit)
MEAL PRAYER
SLOKAS
It is important to understand the meaning of these prayers to appropriately communicate to God and receive His blessings.
For the benefit of children and others who do not completely understand the meaning of these prayers, the English meaning is given below.
PRATTHANA (PRAYER)
Twameva mata cha pita twameva
Twameva bandhushcha sakha twameva
Twameva vidya dravinam twameva
Twameva sarvam mama deva deva
You alone are my mother and my father,
You alone are my friend and my beloved companion,
You alone are my knowledge and my wealth,
O Supreme Lord, you alone are everything for me.
Shri Shiva Aarti
OM JAI SHIVA OMKAARAA, PRABHU JAI SHIVA OMKAARAA
BRAHMAA VISHNU SADAASHIVAA, ARDDHAANGII DHAARAA
OM HARA HARA MAHAADEVAA
Glory to you, O Shiva! Glory to you, O Omkaara! May Brahma, Vishnu and the assembly of other gods, including the great Lord Shiva, relieve me of my afflictions!
EKAANANA CHATURAANANA PANCHANANA RAAJE
HANSAANANA, GARURAASANA VRISHVAAHANA SAAJE
OM HARA HARA MAHAADEVA…
You are One and absolute. Yet, you take different forms, such as Vishnu (with one face), Brahma (with four faces) and Shiva (with five faces) and seat on the back of a swan, Garuda (a large mythological eagle-like bird) or a bull.
DO BHUJA, CHAARU CHATURBHUJA DASHABHUJA ATI SOHE
TIINON RUUPA NIRAKHATE TRIBHUVANA JANA MOHE
OM HARA HARA MAHAADEVA… 
You look resplendently beautiful with your appearances with two arms (as Brahma), four arms (as Vishnu) and ten arms (as Shiva). The whole universe gets delighted by seeing these forms of Yours.
AKSAMAALA VANAMAALA MUNDAMAALA DHAARII
CHANDANA MRIGAMADA SOHAI BHAALE SHASHIDHAARII 
OM HARA HARA MAHAADEVA…
You wear a garland of Rudraaksha, a garland of flowers and a garland of skulls (to signify destruction of evils). Your forehead is smeared with sandal paste and deer musk and adored with the (bright) crescent
SHVETAAMBARA PIITAAMBARA BAAGHAMBARA ANGE
BRAHMAADIKA SANAKAADIKA PRETAADIKA SANGE
OM HARA HARA MAHAADEVA…
Your body is clad with white and yellow clothes and tiger skin. You also represent other forms of Yours, such as Brahma and sages like Sanaka and other departed souls.
KARA MADHYE KAMANDALU AU TRISHUULA DHAARII
SUKHAKAARII DUKHAHAARII JAGAPAALANAKAARII
OM HARA HARA MAHAADEVA…
You hold a kamandalu (the mendicants water-jar) and a trident with your hands (the trident symbolizes three forms of God, viz., Brahma, Vishnu and Shiva). You are the provider of happiness, remover of all sufferings and care-taker of the whole universe.
BRAHMAA VISHNU SADAASHIVA JAANATA AVIVEKAA
PRANAVAAKSARA MEIN SHOBHITA YE TINONH EKAA
OM HARA HARA MAHAADEVA…
Your three forms (Brahma,Vishnu and Shiva) are the same and You are integrated into a single mystic syllable 'OUM'. Only the ignorant (unwise and who lacks the ability to discriminate between good and evil) thinks that Brahma, Vishnu and Shiva are different.
TRIGUNA SVAAMI KII JO KOII NARA GAVE
KAHATA SHIVAANANDA SVAAMII MANA VAANCHITA PHALA PAAVE
OM HARA HARA MAHAADEVA…
"Whoever recites the name of Lord who is composed of three gunas —sattva, rajas and tamas – gets his desires fulfilled", says Shivananda.Swami.
MEAL PRAYER
OMANNAPURNE, SADAPURNESHANKARA PRANA BALLAVEGYANA VAIRAGYA SIDDHARTAMBHIKSHAM DEHI CHA PARVATI
MATA CHA PARVATI DEVIPITA DEVO MAHESHWARABANDHAVA SHIVA BHAKTAHASWADESHO BHUVANATRAYAM
HARI OM, TAT SATLOKA SAMASTHAA SUKHINO BHAVANTU
OM, BELOVED MOTHER NATURE, YOU ARE HERE ON OUR TABLE AS FOOD.YOU ARE ENDLESSLY BOUNTIFUL, BENEFACTRESS OF ALL.GRANT US HEALTH AND STRENGTH, WISDOM AND DISPASSION, AND HELP US SHARE THIS WITH ONE AND ALL.
PARVATI IS MY MOTHER; MY FATHER IS THE LORD OF ALL. ALL CREATION IS MY FAMILY,THE WHOLE UNIVERSE IS MY HOME.
I OFFER THIS UNTO OM,THAT TRUTH WHICH IS UNIVERSAL.MAY THE ENTIRE UNIVERSEBE FILLED WITH PEACE AND JOY, LOVE AND LIGHT.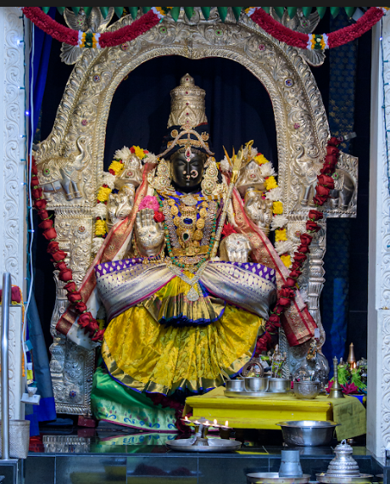 DEVISTUTI (Salutations to Devi)
Sarva Mangala Mangalye Shive Sarvartha Sadhike
Sharanye Tryambake Devi Narayani Namostute
I salute to Narayani (consort of Narayana), the three-eyed Goddess, who is the most auspicious of the auspicious, who makes all desires possible, and in whom I can take refuge.
SLOKAS
Samudra vasane Devi 
Parvatasthana mandale 
Vishnupatnii namastubhyam
Pada sparsham kshamashame 
O Mother Earth, wearing oceans, forests and moumtains;Wife of Vishnu I bow to you.Forgive me for placing my feet on you.
Karagrey vasatey Lakshmi 
Karamoole Saraswati 
Karamadyetu Govinda 
Prabhatey karadarshanam 
On the front of the hand is Lakshmi, Mother of prosperity, In the root of hand is Saraswati, Mother of learning. In the middle is Govinda, (Krishna).Thus we respectfully see our hands in the Morning.
Twameva Maata Cha Pitaa Twameva
Twameva Bandhuscha Sakha Twameva
Twameva Vidya Dravinam Twameva 
Twameva Sarvam Mama Devadeva
Thou art my mother, my father thou art
Thou art my family, my friend thou art
Thou art my knowledge, my wealth thou art
Thou art my all, O Light of all lights thou Art
Kaayena Vacha Manasendriyar Va
Buddhyatmanava Prakriteh swabhaavat
Karomi Yadyat sakalam Parasmai
Narayanayeti Samarpayami
Whatever actions I may perform Impelled by the forces of nature By body, word, mind, senses, intellect, soul, I offer to the feet of Narayana
Om Tryambakam Yajaamahe
Sugandhim Pushti Vardhanam
Urvaarukamiva Bandhanaan
Mrityor Muksheeya Maamritat
Om Saanti Saanti Saantihi. 
We worship the all-seeing one Fragrant, he nourishes bounteously From fear of death may he cut us free To realize immortality Om Saantih Saantih Saantih.
Om Sarveshaam Swastir Bhavatu
Sarveshaam Saantir Bhavatu 
Sarveshaam Poornam Bhavatu 
Sarvesham Mangalam Bhavatu 
Auspiciousness be unto all,
Perfect peace be unto all, 
Fullness be unto all,
Prosperity be unto all.
Sarve Bhavantu Sukhinaha 
Sarve Santu Niraamayah
Sarve Bhadrani Pasyantu 
Maa Kaschid Duhkha Bhaag Bhavet
Happiness be unto all,
Perfect health be unto all,
May all see good in everyone,
May all be free from suffering.
Om, Asato Ma Sad Gamaya
Tamaso Ma Jyotir Gamaya
Mrityor Maamritam Gamaya
Lead us from unreal to real,
Lead us from darkness to light,
Lead us from the fear of death
To knowledge of immortality.
Om Poornam Adah Poornam Idam
Poornat poornam Udachyate
Poornasya Poornamaadaaya
Poornamevaavasishyate 
OM Saantih Saantih Saantih
That is full, this also is full. This fullness came from that Fullness Though this fullness came from that fullness That fullness remains forever full. OM Saantih Saantih Saantih
Om Saha Naavavatu
Saha Nau Bhunaktu
Saha Veeryam Karavaavahai
Tejasvi Naavadheetam Astu
Maa Vidvishaavahai
OM Saantih Saantih Saantih
May he protect us, Grant us wisdom's fruit, May we gain energy to know the Truth May our intellects grow clear and Bright May we cherish no ill feeling toward anyone OM Saantih Saantih Saantih
Kara Charana Kritim Vaak
Kaaya Jam Karma Jam Vaa
Sravana Nayana Jam Vaa 
Maansam Vaa Aparadham
Vihitam Avihitam Vaa 
Sarvam Etat Kshmaswa 
Jaya Jaya Karunaabdhe
Sree Mahadeva Sambho. 
Please forgive all my mistakes, Lord,Made by my hands, feet, body or karma,By my speech, ears, eyes or mind,By intent or through neglect, Lord,May all glory be unto thee, Lord.Sacred ocean of mercy.
Lokaah Samastaah Sukhino Bhavantu
May the entire universe be filled with peace And joy, Love and Light
JAYA JAGADEESHSA HARE (TEMPLE PRAYER)
Om Jaya Jagadeesha Hare
Swami Jaya Jagadeesha Hare
Bhakta janonke sankat
Bhakta janonke sankat
Kshana mei door kare
Om Jaya Jagadeesha Hare
Glory to the Lord Of The UniverseWho Removes In A Moment The Troubles Of Devotees And The Sufferings Of The Poor
Jo dhyave phala pave
Dhukha binashe mana ka
Swami dhukha binashe mana ka
Sukha sampati Ghara ave
Sukha sampati Ghara ave
Kashta mite tana ka
Om Jaya Jagadheesha Hare
One Who Meditates On You is blessedSorrow Is Removed From Mind And HeartHappiness And Wealth Come To The HomePain Is Wiped Away From The Body
Mata pita tum mere
Sharana padum mei kis ki
Swami sharana padum mei kis ki
Tum bina aur na dooja
Tum bina aur na dooja
Asha karum mei kis ki
Om Jaya Jagadheesha Hare
You Are My Mother And FatherIn Whom Else Can I Take RefugeNo Other Than You Do I AcceptOf Whom I Accept Everything
Tum pooran Paramatma
Tum Antaryami
Swami Tuma Antaryami
Parabrahma Parameshwara
Parabrahma Parameshwara
Tum sab ke Swami
Om Jaya Jagadheesha Hare
You Are The Complete Being, The Supreme SelfYou Are The Knower Of All HeartsYou Are Brahma, The Infinite LordYou Are The Lord Of All
Tum karuna ke sagar
Tum palan karta
Swami Tum palan karta
Mein sevaka tum swami
Mein moorakha phala kaamee
Kripa karo bharta
Om Jaya Jagadheesha Hare
You Are An Ocean Of CompassionYou Are The SustainerI Am Thy Servant Oh MasterGrant Me Your Grace, O Lord
Tum ho ek agochar
Sab ke pranapati
Swami sab ke pranapati
Kis vidhi miloo dayamaya
Kisi vidhi miloo dayamaya
Tum ko mei kumati
Om Jaya Jagadheesha Hare
You Are Invisible, Ever PresentThe Protector Of All Life ForceWho Else Would Be The ChannelThrough Whom The Compassion Flows
Deena bandhu dukh harta
Tum rakshak mere
Swami tum rakshak mere
Apane hasta uthavo
Apane hasta uthavo
Dwara paraa mei tere
Om Jaya Jagadheesha Hare
You Are The Friend of the MeekAnd You Relieve Their SorrowYou Are My Savior. Raise Your Hands In Blessing – I Am Lying At Your Door
Vishaya vikar mithavo
Pap haro deva
Swami pap haro deva
Shraddha bhakti badhavo
Shraddha bhakti badhavo
Santon ki seva
Om Jaya Jagadheesha Hare
Wipe Out Worldly FaultsTake Away Our Sins, O LordIncrease Our Faith And DevotionsIn Order That We May Serve The Saints
Tan man dhan sab kuch hi tera
Swami sab kuch hi tera
Tera tujh ko arpan
Tera tujh ko arpan
Kya lage mera
Om Jaya Jagadheesha Hare
My heart, soul and wealth are nothing but your manifestation.How trivial am I, to be offering what is already all yours
SATVIKA TYAGAM (ATMASAMARPAN MANTRA) (Surrendering yourself to God)
Kayena vacha manasendriyairva
Buddhyatmana va prakrite swabhavath
Karomi yadyad sakalam parasmai
Narayanayeti samarpayami
Whatever I do with my body, speech, mind or with other senses of my body, or with my intellect and soul or with my innate natural tendencies I offer (dedicate) everything to Lord Narayana.
Shri Ganesha Aarti
JAI GANESHA JAI GANESHA JAI GANESHA DEVAA
MAATAA JAAKII PAARVATII, PITAA MAHAADEVAA
EKA DANTA DAYAAVANTA, CHAARA BHUJAA DHAARII
MAATHE SINDUURA SOHAI, MUUSE KII SAVAARI
JAI GANESHAA…
Salutation to you, O Lord Ganesha, whose mother is Parvati and the father is Mahadeva (Shiva). O Lord of compassion, you have a single tusk, four arms, a bright mark of vermilion on your forehead and for conveyance the mouse. Glory, glory, all glory….. 
ANDHANA KO AANKHA DETA
KORHINA KO KAAYAA
BAANJHANA KO PUTRA DETA
NIRDHANA KO MAAYAA
JAI GANESHAA…
You bestow vision on the blind, chastened bodies on the leprous, sons on barren women and wealth on the impecunious. Glory, glory, all glory…
PAANA CHARHE, PHUULA CHARHE
AURA CHARHE MEVAA
LADDUANA KO BHOGA LAGE
SANTO KAREN SEVAA
JAI GANESHA…
People offer you betel leaves, flowers, dry fruits and laddus, while throngs of saints and seers serve you. Glory, glory, all glory…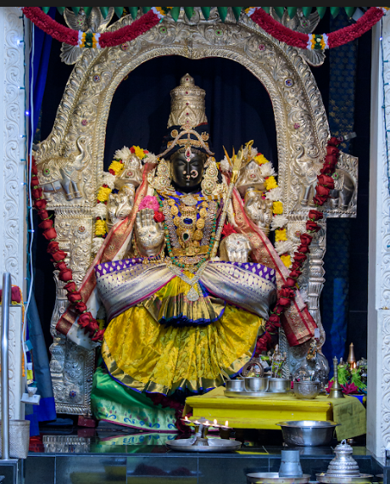 Shri Mahalakshmi Aarti
JAI LAKSHMI MAATAA,
MAIYAA JAYA LAKSHMI MAATAA
TUMAKO NISHADINA DHYAAVATA,
HARA VISHNU VIDHAATAA 
Glory to You, O Mother, glory to You, mother Lakshmi. Shiva, Vishnu and Brahma meditate on you everyday and night.
BRAHMAANII, RUDRAANII, KAMALAA,
TUUHII HAI JAGA MAATAA
SUURYA CHANDRAMAA DHYAAVATA,
NAARADA RISHI GAATAA
You are yourself the consort of Brahma, Rudra (Shiva) and Vishnu and the mother of the world. The Sun and the Moon meditate on you and the sage Narada sings your praises.
DURGAA RUUPA NIRANTARA,
SUKHA SAMPATI DAATAA
JO KOI TUMAKO DHYAAVATA,
RIDDHI SIDDHI DHANA PAATAA
In the form of Durga, you always provide happiness and wealth (of knowledge). Whoever meditates on You, receives prosperity, success and material wealth.
TUUHII HAI PAATAALA BASANTII,
TUUHII SHUBHA DAATAA
KARMA PRABHAAVA PRAKAASHAKA,
JAGANIDHI KE TRAATAA
It is You who dwells in the nether regions (patala) of the universe and provides auspiciousness. You bring out the fruits of Karma (action) done by a human being and protect all worldly treasures.
JISA GHARA MEIN TUMA RAHATII,
SABA SADAGUNA AATAA
KARA SAKE KOII KARA LE,
MANA NAHIN GHABARAATAA
All the good qualities prevail whereverYour presence is there. With Your grace and favor even the impossible becomes possible without having any nervous agitation.
TUMA BINA YAGYA NA HOVE,
VASTRA NA KOII PAATAA
KHAANA PAANA KAA VAIBHAVA,
SABA TUMASE HII AATAA
No sacrifice can be performed without You (Your grace) and no one can obtain any garment (to cover his body). It is from You that one receives one's food and drink (nourishment).
SHUBHA GUNA MANDIRA SUNDARA,
KSHIRODADHI JAATAA
RATANA CHATURDASHA TUMA HII,
KOII NAHIIN PAATAA
O daughter of the Ocean of Milk and the beauteous temple of all propitious virtues, you are a living mass of all the fourteen gems with which none else is endowed.
AARTII LAKSHMII JII KII,
JO KOII NARA GAATAA
URA AANANDA UMANGA ATI,
PAAPA UTARA JAATAA
Whosoever recites this prayer to Lakshmi is purged of his sins and experiences the ecstasy of joy